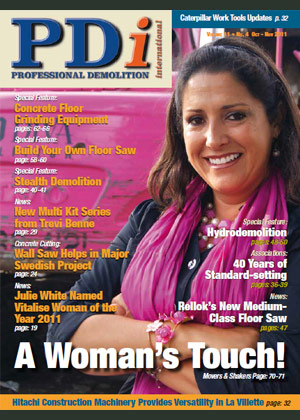 The world's grinding and polishing industry is booming, with the growth rate setting a new record every year. Having analyzed the global trends, the group of companies Adel decided to enter this market some time ago.
Adel (Delta plant) is a Russian manufacturer of premium diamond tools and segments for all construction and stone applications. The combination of high performance and long tool life has earned respect of the company's customers in Europe, Russia and the CIS countries. So it was only a matter of time before Adel turned its sights on Russia's burgeoning concrete grinding and polishing market, in which the company aims to secure leadership.
To accomplish this goal, Adel is using a multi-pronged strategy. The company sponsors e-magazine progrinding.ru, which features technological aspects of concrete grinding and polishing as well as the latest news of the grinding industry. On top of that, the magazine pays much attention to the latest innovations and discoveries in chemistry, considering it an essential part of success in this business.
Adel engineers are looking to create a tool that can provide a high-performance operation in local conditions. Having started off with tools for rough grinding of concrete, Adel now offers tools and segments compatible with most of the world's major brands in hardware, including Schwamborn, Conte HTC, Husqvarna, Klindex and Prep Master. The Russian concrete is different from that in Europe, and its special features, and particularly its high abrasiveness, have to be considered when designing a tool. The original structure of the diamond layer developed by Adel allows users to perform all kinds of surface preparation jobs. A tool on the metal substrate for fine polishing of concrete surfaces will be available in the near future. The working parts of this tool are based on the new diamond pattern technology that provides high evenness and cleanliness of the surface being polished, especially on large-scale jobs. The new tool combines considerable productivity with long life. Adel, who is confident of its prospects, plans to keep expanding its range of high-quality diamond tools for the construction market.
/// PDi, Volume 11, No 4, Oct-Nov 2011. Adel aims for leadership of the Russian grinding and polishing market